Brand story
The abbreviation of Kisonli is named kisonli by the English name of the boss of Kisonli: Kison + He and his wife's entrepreneurial story combined to create the name Kisonli. When Mr. Kison started his business 16 years ago, he received strong support and recognition from his wife. The couplehad a common life goal! When they created the first foreign brand, they used the energy of Mr. Kison + his wife's strong (li) support when they co-founded the company and named it: Kisonli.
Company Name: Guangzhou Kisonli Electronic Technology Co.,Ltd.
Foreign name: Kisonli
Established time: 2013
Company (Exhibition Hall) Location: No.168-169,1st Floor ZhanWang Digital,square Tianhe District,Guangzhou,China
Company (Ministry of Foreign Trade Office) Location: 1706, 17th Floor ZhanWang Digital,square Tianhe District,Guangzhou,China
Business scope: research and test development of the nature of trade
Mr. Kison and his wife opened their first store in 2006 in BUYNOW, Gangding Station, the most prosperous prime area in Tianhe District, Guangzhou. It mainly sold webcam and speakers, Mr. Kison created the first domestic brand (JNS) based on the suggestions and brand sharing of the designers who cooperated with them, and began to sell their products mainly in the domestic market. Due to the exquisite packaging design and complete product categories, it soon occupied the market. In the market, it has cooperated with more than 70 major chain enterprises selling electronic products across the country and achieved good results. At the same time, in 2008, Kison and his wife hosted the first foreign friend from Ghana in their own store and successfully obtained an order. This was also the first foreign trade order in his life; after that, he began to learn How to communicate with foreign customers and study English hard. Slowly, customers from Pakistan, Nigeria, Indonesia, Malaysia and other countries come to Kison's store for inquiries. Since the webcam and speaker products sold in the domestic market were relatively professional, and at the same time always focused on product details and quality, it was quickly recognized by foreign customers.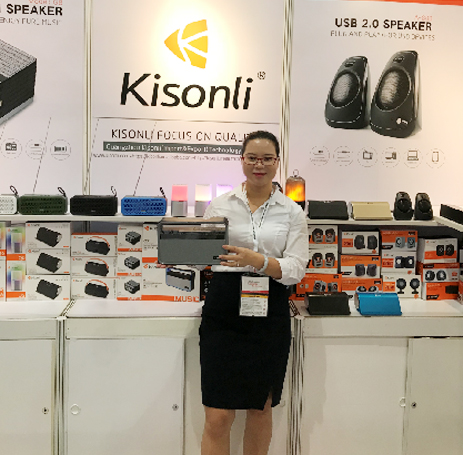 However, because the original domestic brand (JNS) has Chinese fonts, considering the long-term development of the international market, it was decided to create an all-English brand to sell internationally. Therefore, Kisonli company and brand were founded in 2013 in Mainland China, mainly engaged in the sale of Kisonli brand speakers and cameras.
Due to the increase in sales abroad, the Kisonli brand has often received word of mouth from many foreign friends. Through the method of customer recommendation, it has harvested customers from different countries and established long-term cooperative relationships.